WALK ASSIST
Walking Assist Device with Stride Management System
Most people think of Honda as an automobile company. But our main focus is and always has been human mobility. And innovation is our engine.
Honda has two walking assist prototypes that are currently being tested, our Stride Management Assist device and our Bodyweight Support Assist device.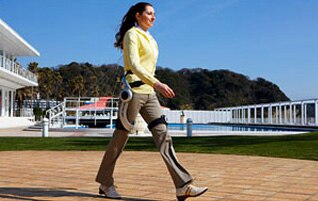 Stride Management Assist
When walking is a struggle, you need a leg up. And that's literally what Honda's prototype Stride Management Assist device is designed to provide. A motor helps lift each leg at the thigh as it moves forward and backward. This helps lengthen the user's stride, making it easier to cover longer distances at a greater speed.
A lightweight, simple design with a belt worn around the hips and thighs was created to reduce the wearer's load and to fit different body shapes.
For those with weakened leg muscles who are still able to walk

Lengthens stride

Regulates walking pace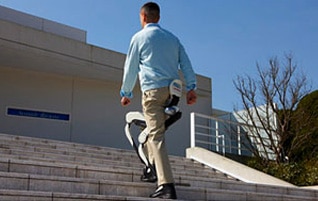 Bodyweight Support Assist
Imagine how much easier it would be to perform a physically demanding activity with a "lighter" body. That's the effect achieved by the prototype Bodyweight Support Assist being developed and tested by Honda.
Honda's second experimental walking assist device helps support bodyweight to reduce the load on the user's legs while walking, going up and down stairs, and in a semi-crouching position. This could lead to reduced fatigue and less physical exertion.
Supports a portion of a person's body weight

Reduces the load on muscles and joints
More than 130 patents have been applied for pertaining to the walking assist devices, which are currently being tested in real-world conditions to evaluate their effectiveness. Eventually, other applications may be found for such a device, including everyday activities such as sightseeing.
As a company that values mobility, Honda began research into a walking device in 1999. The cumulative study of human walking, along with research and development of technologies conducted for Honda's advanced humanoid robot, ASIMO, made these developments possible.
ASIMO
With the goal of assisting people with limited mobility, Honda scientists and engineers spent two decades developing a robot that would become ASIMO (Advanced Step in Innovative Mobility).
Today, ASIMO is the world's most advanced humanoid robot with the ability to walk, run, climb stairs and carry objects. ASIMO can even respond to voice commands and recognize faces. In the future, Honda hopes that ASIMO will be able to assist people with limited mobility or perform tasks dangerous to humans.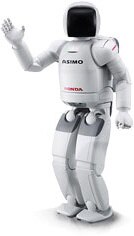 HONDAJET
Revolutionary HondaJet
HondaJet was borne of the power of dreams - power that drove our innovations in aircraft design from thought to drawing board to flight in just seven years.
Taking the next-generation Honda engineering to new heights, the HondaJet features patented engine over wing design and offers increased fuel efficiency, more interior space, and higher cruising speeds than existing business aircraft.
Living up to Honda's reputation for superior fuel efficiency, the HondaJet delivers 30-35 percent better cruising fuel efficiency than comparable jets, along with a class-topping cruise speed of 420 knots (450 mph), and a more spacious cabin with room for up to eight people. Production of HondaJet is scheduled to begin in the U.S. in 2010.
Honda Aero achieves significant U.S. aviation milestone
For the first time in 23 years, the U.S. Federal Aviation Administration (FAA) has issued a Production Certificate to a new company making jet engines in America. Honda Aero, Inc. is responsible for the production of HF120 turbofan engine at its new, state-of-the-art production facility in Burlington, North Carolina. Learn more about the GE Honda HF120 engine, a powerplant that delivers unprecedented performance, at gehonda.com
Safety
Safety For Everyone
Honda's commitment to safety.
At Honda, we believe you deserve advanced levels of safety regardless of the price or size of the vehicle that meets your needs. We call this approach Safety for Everyone.
Through technology and innovation we are developing increased levels of protection for everyone who enjoys Honda's products, while also making an active commitment to enhancing safety for the drivers and occupants of other vehicles, and even pedestrians. As a leader, Honda looks beyond industry and government requirements, and focuses on future innovation to invent safer ways for people to drive or ride today people. Production of HondaJet is scheduled to begin in the U.S. in 2010.
Airbag System
Six standard airbags
Almost all Honda's vehicles feature six airbags, including the revolutionary passenger-side Occupant Position Detection System (OPDS) airbag that will not deploy if the system detects a smaller sized or out of position occupant.
The Honda-developed Side Curtain Airbag is the world's fastest deploying side curtain system. Working in conjunction with the front side airbags, it provides improved protection in side impact collisions. Side Curtain Airbags provide added protection in side impacts or in the event of a rollover. The system employs a sensor to trigger airbag deployment in the event of a rollover.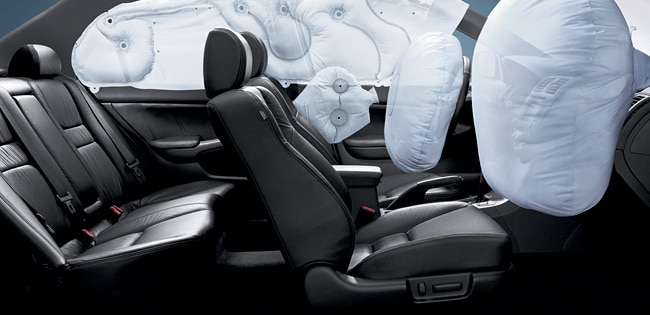 Safety for Everyone
In keeping with the Safety for Everyone commitment, it is not enough to be concerned only with people inside our vehicles, we must consider pedestrians.
In the pursuit of next-generation safety innovations that help reduce life-threatening injuries, Honda developed the most advanced pedestrian dummy in the world, POLAR II. With unique human-like joint structures, instruments in POLAR II measure the level of injury in eight regions, including the head, neck, chest, abdomen and legs to help Honda better understand the real world dynamics of pedestrian incidents. In fact, a wide range of Honda and Acura models incorporate the latest in pedestrian-friendly body design, including specially designed hood structures, hood hinges, front frame construction and breakaway wiper pivots.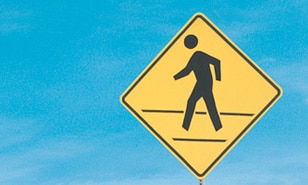 Clean Land
Environmental Initiatives
Our Green Factory Program has helped all our Honda plants worldwide meet the toughest international management standards. Our facility in Alliston was one of the first Honda plants to be ISO14001 certified, and currently recycles 99% of its production waste. It is the first Honda facility in North America to achieve this.
Our environmental commitment goes beyond automobiles. Introducing the New Honda Campus.

There's an old saying, "If you're going to talk the talk, you've got to walk the walk." And if you were to take a walk around the new Honda Campus in Markham, Ontario, you'd realize that our commitment to protecting and sustaining the Canadian environment is something we're very serious about. In the words of Masahiro Takedagawa, president and CEO of Honda Canada Inc., "Despite the tough economic times, Honda is committed to investing in our future in Canada as a corporate citizen."
Three buildings, one vision
Our new campus will feature 3 buildings: a four-storey, 138,000-square-foot head office building; a 71,000-square-foot technical centre for research and development, engineering and training; and a 224,000-square-foot parts distribution centre. Each building will be designed to meet strict LEED® (Leadership in Energy and Environmental Design) standards.
Leaders LEED
Getting LEED certification requires meticulous planning, dedication and execution. Here are just a few of the innovations at our new campus:
The buildings are oriented on the grounds to optimize energy performance. So less heat in winter and less air conditioning in summer will be required.

Heating comes from underneath a raised floor to provide more efficient distribution and reduce energy consumption.

The lighting system automatically adjusts according to how much natural light is already present in the building. It also turns off if no one is working on the floor.

Rain water that runs off the warehouse roof is stored underground for use in irrigation.

Rain water from parking lots is drained through bio filters before being released to public sewer systems.

50% of the wood used in construction came from sustainable sources.

Over 8,000 plants, shrubs and trees have been planted.
Open for Business
Our new Honda Campus is now officially open on over 53 beautiful acres in Markham, Ontario. It's another way we're helping to keep Canada a beautiful place.
Clean Air
Hydrogen Home Energy Station
Imagine the convenience of
filling up your car at home.
And then imagine heating and powering your home from the same source. The Honda Home Energy Station makes that dream a reality. Using natural gas as its base energy source, it can supply enough hydrogen to power a fuel cell vehicle, like the Honda FCX, for daily operation, as well as enough electricity for an average-sized household. On top of reducing carbon dioxide emissions by close to 40%, the Home Energy Station is expected to lower the total running cost of household electricity, gas and vehicle fuel by an incredible 50%.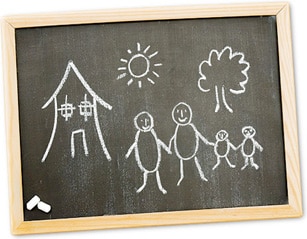 Fuel Cell Technology
Honda developed the FCX fuel cell vehicle as an integral way
to reduce our global dependence on oil.

A fuel cell reverses the electrolysis of water, producing electricity through the chemical reaction of hydrogen and oxygen to turn an electric motor and power the vehicle. Fuel cell electric vehicles produce no CO2 or any harmful emissions whatsoever.
Honda began road testing fuel cell electric vehicles in 1999. Since delivering the first FCX fuel cell vehicles to both the Japanese Cabinet Office and to the City of Los Angeles in 2002, the first individual customers of a Honda fuel cell vehicle were announced in 2005. Honda continued to develop its fuel cell technology with the goal of more widespread commercialization. In November 2007, Honda unveiled the FCX Clarity advanced fuel cell electric vehicle featuring a fuel cell stack that was lighter, more compact and more powerful than ever before. With exceptional output of 100 kW, the stack featured a 50 percent increase in output density by volume and 67 percent by mass. As compared to its predecessor the FCX, the FCX Clarity offered 20 percent higher fuel economy and a 30 percent greater vehicle range.* *Honda calculations.
The FCX Clarity was the world's first vehicle to feature Honda's original plant-based Honda Bio-Fabric in its interior. The FCX Clarity also offered climate-controlled seats, which can warm and cool the occupant directly, helping to reduce the overall amount of electricity used for heating and cooling. Honda began leasing the FCX Clarity to individual customers in the United States in July 2008, and in Japan in November 2008.
On January 6, 2010, Honda delivered FCX Clarity to its latest customer, 2010 Canadian Olympic hockey team captain, Scott Niedermayer. Also a team captain for the Anaheim Ducks National Hockey League team, Niedermayer is a leader both on and off the ice, promoting an environmentally responsible lifestyle and the protection of natural resources.
Bioethanol fuel, made from plant sources such as sugar cane,
doesn't increase carbon dioxide when used to power vehicles.
The plants absorb CO2 via photosynthesis, and make bioethanol fuel an effective means of combating global warming, and a viable alternative to petroleum. Honda's latest bioethanol initiative and one of its most significant is the building of a plant in Wako, Japan devoted to the creation of mass-produced bioethanol.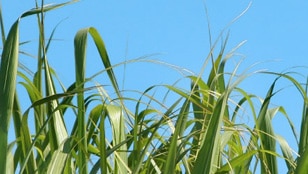 Honda manufactures and sells next-generation solar cells.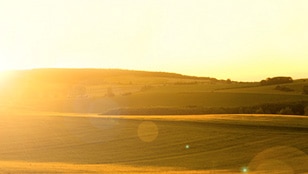 In October 2007, Honda Soltec Co., Ltd. began manufacturing and selling the panels for use on manufacturing facilities, public buildings and private homes. Utilizing thin film made from a compound of copper, indium, gallium and selenium (CIGS), Honda's next-generation solar cells are 1/80 the thickness of conventional silicon solar cells. Helping to reduce CO2 emissions from the production stage onward, Honda's solar cell technology has also achieved the highest level of photoelectric transfer efficiency for a thin film solar cell.
Clean Water
Marine Engines
Since 1972, Honda has manufactured only four-stroke outboard motors, which are about 90% cleaner, 50% more fuel-efficient and 50% quieter than typical two-stroke outboard motors that can release oil into the water.
Clean, quiet, and fuel-efficient, they incorporate advanced technologies from our racing heritage to maximize power output and reliability. And all Honda outboards carry the coveted 2008 Ultra-low Emissions designation of the California Air Resources Board (CARB) and meet or exceed the stringent 2006 Environmental Protection Agency (EPA) standards.