Give our Parts Department a call @ 1 866 729-7095 or click here to email any questions you have about Honda parts or any Accessories for your Honda.
Genuine Honda Parts
Genuine Honda Parts are made for your Honda. They maintain the quality, reliability and performance of your vehicle. These attributes have come to define Honda vehicles, and are also reflected in the parts from which they are built. Keep your Honda a Honda by choosing Genuine Honda Parts.
Quality

Honda's best quality.
The core of Honda quality exists in every part of your vehicle. Genuine Honda Parts are manufactured to strict quality standards for an exact fit and precise operation. When you choose Genuine Honda Parts, you can count on the highest quality standards imposed by Honda engineers.

Reliability

Rely on your Honda.
Only Genuine Honda Parts are supported by Honda nationwide. Each part works in conjunction with others to produce a single output. Many non-genuine parts may claim to be reliable, but they are not produced to meet Honda's engineering and material specifications. Compromise one part and you may unknowingly compromise a whole system.

Performance

Don't compromise performance.
By choosing Genuine Honda Parts, you won't compromise your vehicle's performance and safety. Each Genuine Honda Part is precisely designed and rigorously tested at Honda's R&D facilities. This process helps ensure that each part will function at its optimum performance level while providing the durability and reliability that you expect from your Honda.
Your Source For Tires
Let Dalt's Honda help with all your tire needs. We have a great selection of All Season tires. Let us help you find the correct set for you and your vehicle. Email or call 1 866 729-7095 with your year and model for more information and pricing today.
Battery Replacement
Genuine Honda Parts!!! 5 Year Warranty!!!

Click Here or call 1 866 729-7095 for information or to book an appointment.
Genuine Honda Floor Mats
Don't under-estimate the importance of using properly fitted and installed floor mats! Genuine Honda Accessory all-season mats are designed specifically for each vehicle model to precisely fit the floor area of each seating position. Eyelets are provided on the driver's mat to secure it in place on the OEM anchor hooks so it will stay in proper position, away from potential interference with the driver's pedals.

Only one set of OEM carpet mats or Genuine Honda Accessory all-season floor mats should be used. Never place one set of mats over the other as this could result in mat displacement causing interference with the operation of the driver's pedals.

**Protection Package**

Keep the interior of your vehicle clean and clutter-free with protection package items:

All-season mats
Cargo tray
Splash guards

For pricing or any questions you may have, call 1 866 729-7095 and ask for parts, or click here to send an email.
Genuine Honda
Oil Fluids
All Honda oils and fluids are specially formulated to meet the precise standards of quality established by Honda and are recommended to be used throughout the life of your Honda vehicle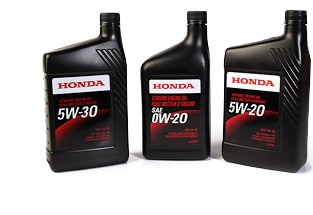 Engine Oil
Engine oil lubricates the engine's moving internal parts to protect them against wear and reduce friction. It also creates a protective seal between the moving and stationary parts, all while helping to cool the engine. As engine oil deteriorates with time, it loses its ability to properly protect the engine. Follow the recommended oil changes intervals specified by your Honda's Owner's Manual or Maintenance Minder system (if equipped).
0W-20 Engine Oil – Now and for the Future
Honda 0W-20 engine oil is a full synthetic formula that provides advanced protection against oil breakdown for a cleaner running engine. Oil naturally becomes thicker at lower temperatures and thinner at higher temperatures. Oil viscosity is how thick or thin an oil is, which affects how it flows in the engine. Thinner oil has a lower viscosity, and therefore flows faster. The thin properties of Honda 0W-20 engine oil allow the oil to circulate more quickly, reducing engine operating temperatures and increasing cold start protection when most engine wear takes place and reducing friction to promote lower fuel consumption.
Reduce engine wear and protect your investment by choosing Genuine Honda 0W-20 engine oil. Applicable to most model years – consult with your Honda dealer for compatibility.
Engine Antifreeze/Coolant
Engine coolant acts to absorb and regulate the heat that is naturally generated by the engine to keep the engine running at an optimum temperature. It also contains anti-freeze to permit operation in very cold temperatures, while at the same time protecting the cooling system components with its anti-corrosion properties. As the coolant's properties deteriorate with time, it is necessary to replace the engine coolant at the recommended service intervals. It is also recommended to check the coolant level regularly. Coolant loss may indicate a cooling system problem or leakage that could lead to engine overheating and damage.
ATF DW-1
Automatic Transmission Fluid acts to cool and lubricate internal transmission components. Over time, the properties of the fluid diminish and replacement is necessary at the recommended service intervals for your Honda vehicle. An inspection of the transmission, fluid hoses, pipes, and cooler (if equipped) should be performed during recommended maintenance.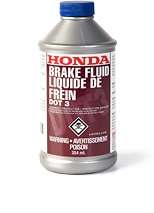 Brake Fluid
When the brake pedal is pressed, the brake fluid transfers hydraulic force to the brake calipers to slow or stop the vehicle. Brake fluid tends to absorb moisture from the air and as a result the performance of the fluid deteriorates over time. Brake fluid should be replaced every 3 years. The brake hydraulic component system should also be inspected for leaks or damage.
Brake fluid is also contained in the modulator that controls brake system pressure during ABS (anti-lock brake system) and VSA (vehicle stability assist) operation.
Hydraulic Clutch Fluid
Brake fluid is used in the hydraulic clutch system on vehicles equipped with a manual transmission. It requires replacement for the same reasons and at the same intervals as the fluid in the brake system.
Genuine Honda
Oil Filters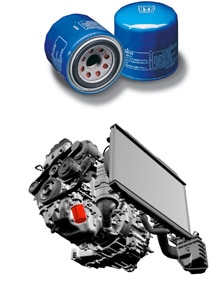 Designed precisely for your Honda engine
The oil filter on your Honda's engine traps and retains fine particles that are generated during engine operation. Efficient filtration is essential to preventing engine wear and damage and to maintain proper oil flow for lubrication and cooling.
Genuine Honda oil filters are designed and manufactured to our original equipment specifications so your engine receives the same high standard of filtration protection when serviced at your Honda dealer as it did right from the factory.
The oil filter should be replaced with the engine oil when indicated by your Honda's maintenance schedule, or if equipped with the Maintenance Minder system, when it indicates to do so.
Genuine Honda
Brakes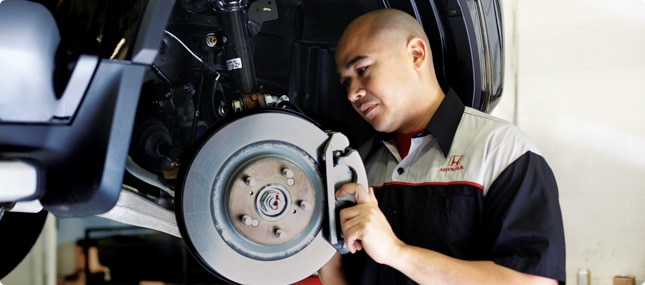 Genuine Honda brake parts, designed by Honda engineers, specifically for your Honda's braking system
When you press your Honda's brake pedal, the friction material on the brake pads is pushed against the brake discs to create friction which resists the rotation of the discs. Braking torque is transferred to the wheels and tires to slow or stop the vehicle. The same occurs on rear drum brake equipped vehicles when the brake shoes are pushed outward against the inside of the brake drums.
Each time the brakes are used, a small amount of friction material, or "lining," is worn off. Eventually, the thickness of the lining will diminish to the point where replacement is necessary. When this occurs is directly related to your driving habits, operating conditions, vehicle usage and frequency of brake maintenance.
Regular inspection and servicing is required to maintain your Honda's braking system in top working order. Follow the maintenance requirements stated in your Honda's Owner's Manual.
When brake pads or shoes require replacement, insist on Genuine Honda Parts to maintain the original performance and reliability of your Honda's braking system.
Genuine Honda
Batteries
Your Honda dealership has the power to keep you going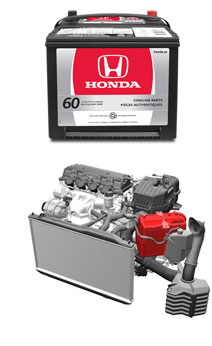 Your Honda's battery is one of its most important components. It stores and provides power to start its engine and to operate its many electrical and electronic systems.
With time and use, a battery's efficiency gradually deteriorates, affecting its ability to accept and hold its charge, and to start the engine. Avoid being inconvenienced unexpectedly by a weakened or exhausted battery by having your Honda dealer test your battery's condition during required maintenance and replacing it if necessary. They can also test your Honda's charging system to make sure it is performing properly to replenish the battery's charge while driving.
Genuine Honda replacement batteries are manufactured to match your Honda's electrical system specifications, are competitively priced and are backed by a 60-month, unlimited-mileage warranty. During the first 24 months, the battery and labour are covered 100%. During months 25 through 60, the replacement cost of the battery is pro-rated.
As part of Honda's environmental initiatives, all replaced batteries are recovered and recycled.
Genuine Honda
Wiper Blades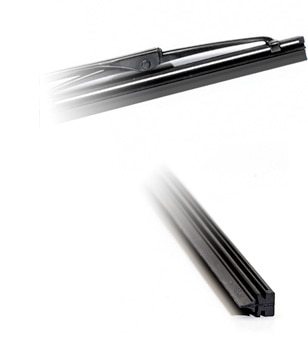 Wipe away cost by choosing Genuine Honda wiper blade inserts
Did you know? Honda wiper blades are designed so you can replace only the rubber insert and not have to change the whole blade. This makes replacement quick and cost-effective. Your Honda dealer can provide and install the proper sizes of Genuine Honda rubber inserts for your wiper blades.
Being able to see clearly is critical when driving in rain and snow. This is why it is very important to check your Honda's wiper blades for damage periodically and watch for signs that they are wearing out and in need of replacement. If you find sections of a blade's rubber insert missing or torn, or it is leaving a streak or not clearing moisture from the glass efficiently, it is time for replacement.
Genuine Honda
Filters
Both you and your engine can "breathe easy" with Genuine Honda air filters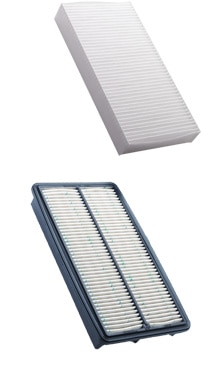 Cabin Air Filter
Most Hondas are equipped with an air filter to remove dust, pollen and debris from outside air that enters the passenger cabin through the heating and air conditioning system.
As the cabin air filter gets dirty, air flow becomes restricted and the volume and velocity of air exiting the ventilation ducts reduces. Periodic replacement of the cabin air filter is specified in the Maintenance section of your Honda's Owner's Manual. More frequent replacement may be necessary if you often drive in dusty conditions.
Engine Air Filter
Your Honda's engine has an intake air cleaner which contains an air filter element that prevents foreign materials such as dust and debris from entering the cylinders. If foreign materials make their way into the engine, they cause internal damage and premature wear.
Whenever the engine is running, the air filter is removing and collecting foreign materials from the intake air and will eventually accumulate enough that replacement will be necessary. A clogged air filter affects engine performance and can increase fuel consumption and contribute to engine oil contamination.
Air filter inspection and replacement is required at specific maintenance intervals, as indicated in the Owner's Manual or by the Maintenance Minder system, if equipped. If you often drive in dusty conditions, more frequent replacement may be necessary.
Your Honda dealer can provide and install the correct, Genuine Honda filter for your vehicle.
Genuine Honda
Belts
Genuine Honda drive belts and timing belts are designed to resist stretching and deterioration for maximum durability and performance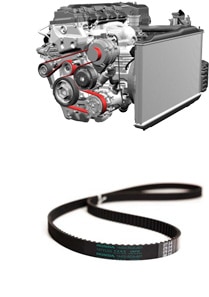 Drive Belt
Depending on the model, the drive belt operates the water pump, the alternator, and the power steering pump. It also drives the air conditioning compressor on A/C equipped vehicles. Belt replacement is necessary if the belt becomes worn, damaged, or as the rubber deteriorates due to age or contamination. Belt failure can result in engine overheating, loss of power steering, inoperative charging system, and A/C.
Timing Belt
The timing belt drives the engine's camshaft(s) to open and close the intake and exhaust valves at the proper time. On some Honda engines, the timing belt also drives the water pump to circulate the engine's coolant. Some engine models also have a second smaller timing belt that drives a balancer shaft system to cancel out engine vibrations.
Periodic timing belt replacement according to your Honda's maintenance schedule is critical to avoid belt failure and potential engine damage.
Dalt's Honda Accessory Sale
This is where you will find great deals on accessories that can add something special to your Honda. These items are limited, so don't hesitate.

Honda Odyssey (Model Years 2006-2010):

GENUINE HONDA FLOORLINERS

-Black in colour
-Feature a raised model logo (Odyssey) on both first row Floorliners
-High-Density Tri-Extruded (HDTE) material allows for a rigid core for strength while offering surface friction to the carpet, as well as tactile feel to the surface!
-Advanced surfacing creates channels that carry fluids and debris to a lower reservoir with further channeling to help minimize fluid movement while driving!
-Complete coverage included in this set. (All three rows!)
Retails for $365 + installation.
Sale Price: $285 Installed.
Last one!! Don't wait or it will be gone!!


Honda CR-V (Model Years 2007-2011):

SIDE STEPS CHROME

Give your CR-V a more rugged/refined look with these side step bars.
Retai for $610 Installed.
Sale Price: $430 Installed.

CHROME EXHAUST FINISHER

The chrome finish is eye catching and just adds to the already great look of your CR-V.
Retals for $90 Installed.
Sale Price: $50 Installed.


Honda Civic Hatchback (Model Years 92-95):

PERFORMANCE SPORT MUFFLER
Get a performance sport muffler for your Honda Civic Hatchback!! And get a great deal while you're at it!!
Retails for $499 + installation.
Sale price $349 (part only) or $400 installed.
Last one!! Don't wait or it will be gone!!

Click Here or call 1 866 729-7095 (Ask for David) to ask any questions. Make sure you mention which part you are asking about in the comment section.